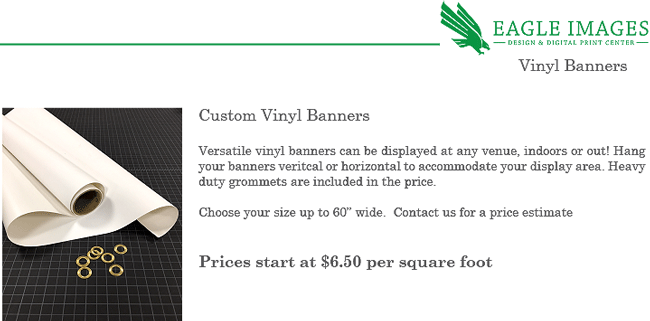 Banners are a great way to make a big impact. In addition to the traditional vinyl banners, you can rely on us to print custom banners that will get you noticed.  Banners can be used in a variety of ways!
Advertising Banners  |  Backdrop Banners  |  Birthday Banners  |  Church Banners  |  Event Banners |  Graduation Banners  |  Mesh Banners  |  Outdoor Banners |   Trade Show Banners  |  Wedding Banners  |  Merchandising Banners
Have questions or need another type of banner?  Please contact Eagle Images Production Center at 940.565.2083.


We serve UNT students, faculty, staff, and alumni who need professionally produced printing at affordable prices.